Landscaping is the Only Renovation that Increases Over Time
Why spend money you aren't going to get back?
People often think that the bathroom or kitchen is where they will see the greatest return on investment for home renos, and for quite awhile that was true. However, in todays market trends are less likely to last as long as they use to. What does this mean? Well, in recent years you could expect to remodel your home only once in your lifetime, and all the hard work and money you spent would look up to date until you sold your home. However, in todays fast paced world trends come and go more quickly than they used to. This means your remodel you spent all that time and money on could look out of date in 3-5 years.
Where should you focus your renovation dollars?
TD Bank did a study on different categories of home renos and the return on investment, this is what they found:
$1 spent on renovations =

$0.70 Kitchen
$0.60 Bathroom
$1.00 Landscaping
This means that for every dollar you spend outside on landscaping that value is added to your home right away.
Here's the best part…
Landscaping doesn't loose value over time, it increases.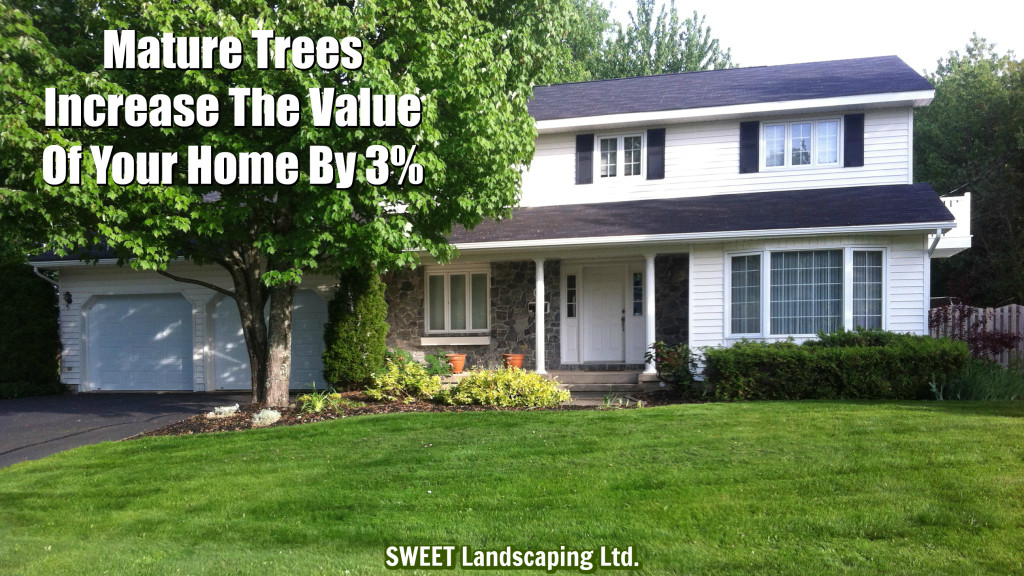 Why is this? Well simply put, plants and trees look better over time as they mature. If you compare this to a kitchen or bathroom remodel where you buy appliances, or flooring, those items loose value over time as they wear or become dated.
Where should you spend money on landscaping?
If you're not sure where to start here are some statistics on where Century 21 sees an increase in a homes value based on their landscaping.
Increased Value as a percentage:

Mature Trees 3%
Flower Beds 3.7%
Hedges 4.5%
Front Walkway 7%
Driveway 7%
Patios 12.4%
Their study also concluded that a home that has an inviting front yard has an increased value of 7%. This means a home worth $300,000 with a inviting front yard has an increased value of $21,000 all because of the front landscaping.
Keys To a Great Front Yard or Curb Appeal
Have an inviting walkway to your front door
People need to be instantly drawn to your front door. This can be done by having a beautiful walkway that is easily accessible.
Have a seating area in your front yard, like a bench or small table with chairs
Even if you never use this space very often, anyone who visits your home will be impressed. Whenever people see a seating area they image relaxing.They will instantly see themselves sitting in this area enjoying a beverage, or reading a book.
Patios and Decks = Biggest ROI – 12.4%
$300,000 Home + Patio/Deck = $36,000 increase!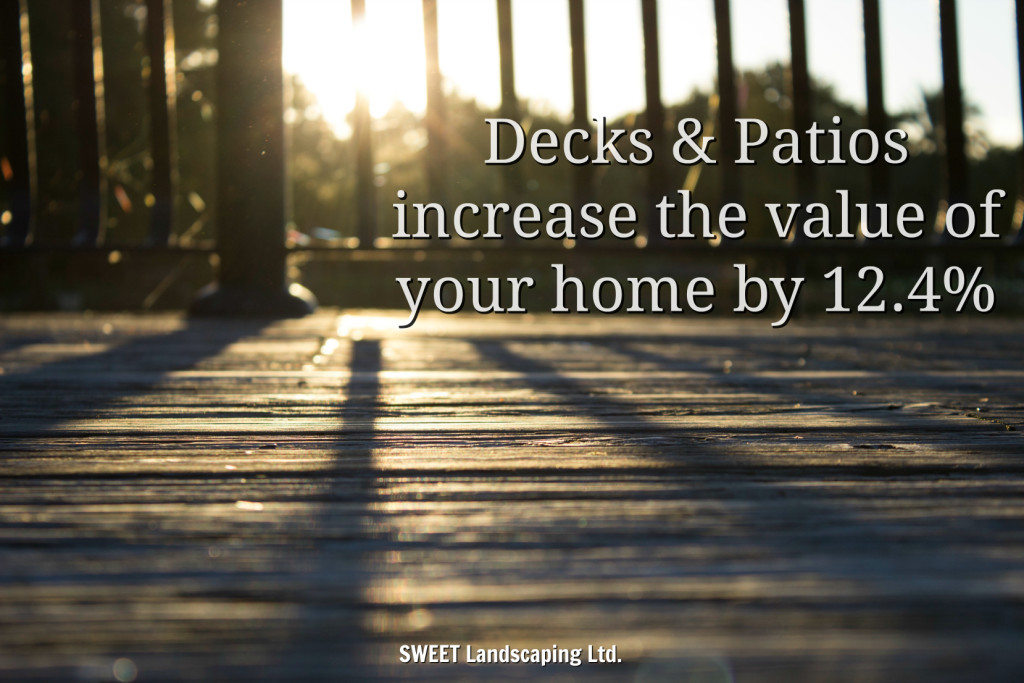 Why is the return so high for patios and decks? Patios and deck are versatile and useable outdoor space. If you have a great useable outdoor space, especially if you have a smaller home it will greatly increase the value of your property. Useable outdoor space is like having an additional room outside, and the best part is that space can be used for relaxation, entertaining, cooking, or whatever you feel like using it as.
Tips for a Great Patio or Deck
As a minimum a deck or patio shouldn't be smaller than 12 feet by 12 feet. This is just enough room to fit 4 people comfortably with a table, 4 chairs, a and BBQ.
If you really want a great space outside go for a 15 feet by 15 feet deck or bigger.
This will allow you plenty of room to use the space for other activities, and fit outdoor cooking and seating.